October 29th, 2021 at Leesburg Executive Airport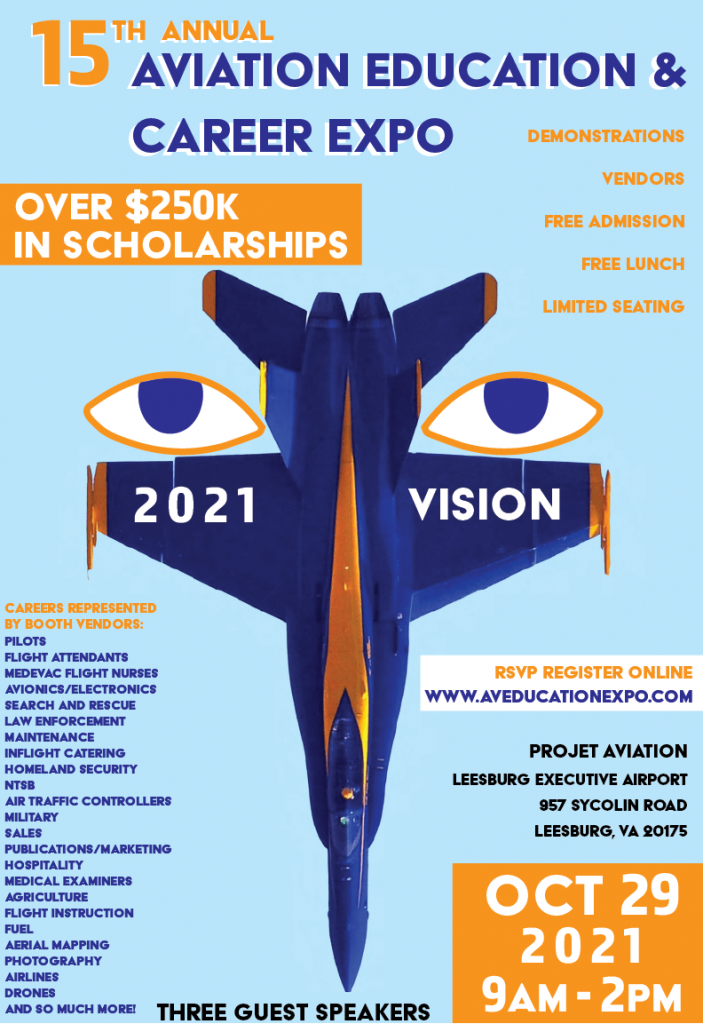 November 9th, 2021
Over $133K in scholarships awarded at Aviation Education & Career Expo hosted by ProJet Aviation
The 15th annual event showcased exciting careers in aviation and aerospace to students in the Mid-Atlantic Region.
ProJet Aviation hosted the 15th annual Aviation Education & Career Expo at the Leesburg Executive Airport. More than 800 students, educators, and parents attended the Expo, which is designed to educate young adults (ages 16-22) about exciting careers in aviation. The event featured keynote speakers, live demonstrations, and representatives from over 70 aviation organizations, including the US military, emergency medical airlift, law enforcement, maintenance/avionics repair, government agencies, private aviation, and more. "The theme for this year's event was – 2021 Vision," said ProJet Aviation's Julie O'Brien, Co-founder of the event. "We work with our sponsors to provide experiences, mentoring, and scholarships that inspire students to discover and pursue their passion for the skies."
The Aviation Education and Career Expo is a unique opportunity for students interested in the aviation/aerospace industry to explore numerous career paths and talk one-on-one with industry experts.  Students get an "up close and personal" look at occupations that are in high demand in the United States and worldwide.
Guest speakers and demonstrators included:
ProJet Aviation's CEO, Shye Gilad
Leesburg Mayor Kelly Burk
The US Air Force Honor Guard Drill Team
Former Scholarship Winners: Simon Kadel and Paul Alexiou
Garda World Federal Services – K-9 Unit
The US Army Golden Knights Parachute Jump Team
Jennifer Timko, Former Air Force Pilot and current United Airlines Captain
Frank Culbertson, Retired NASA Astronaut and Commander of the International Space Station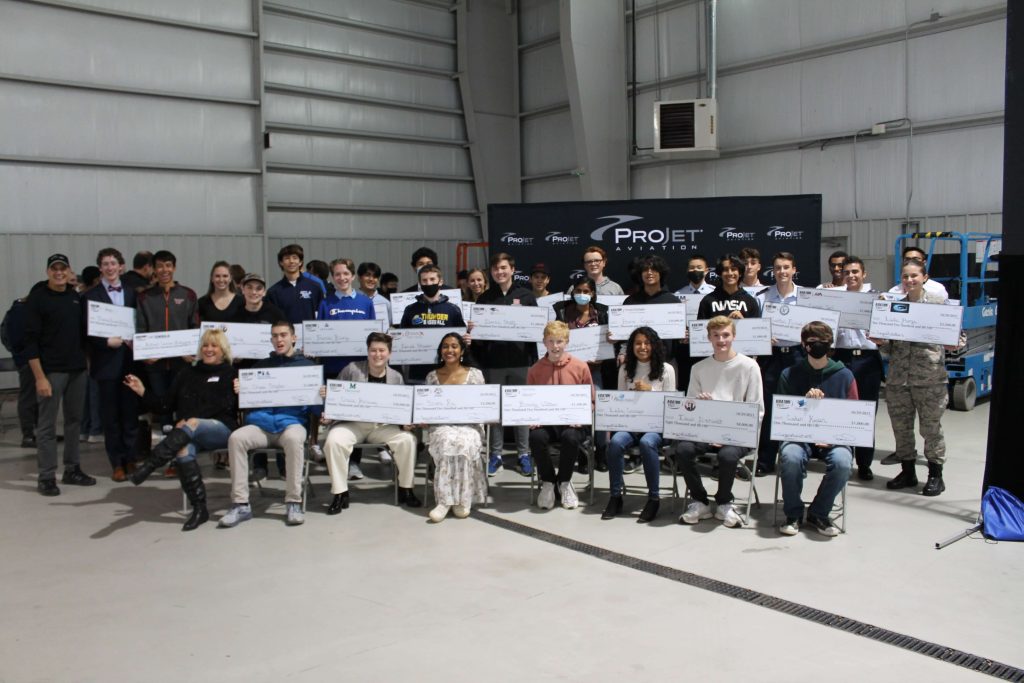 2021 scholarship winners:
Mikayla Ralston $500 Award from College of Missionary Aviation
Ellen Ozkaptan $1,000 Award from Aero Elite Flight Training
Neha Chinthapatla $2,500 Award from Frederick Flight Center/Advanced Helicopter Concepts
Leila Hamza $2,500 Award from Frederick Flight Center/Advanced Helicopter Concepts
Daniel Stassen $3,000 Award from Bravo Flight Training
Sunjum Mehta $700 Award from Aviation Without Borders
Leila Cornejo $1,000 Award from Women in Aviation
Thomas Howard Kepley $1,000 Award from ProJet Aviation
Josef Pesentheiner $1,000 Award from Paragon Aviation Group
Alexander Scott $1,000 Award from Paragon Aviation Detailing
Francis Bronzi $1,000 Award from JetLinx
Cannon Gill $1,000 Award from The Hoxton Agency
Caden Keyser $1,000 Award from Goose Creek Aviation
Hugh Flanagan $1,000 Award from The Aviation Foundation
Akul Singhal $1,000 Award from Aviation Connect
Christopher Lynch $1,000 Award from Avemco
Brian Khin $1,000 Award from AOPA
Logan Reuter $1,000 Award from the Airline Pilots Association
Dominic Stultz $1,000 Award from Toth Financial
Rafael Garcia-Rodriguez $2500 Award from GWBAA
Srisha Raj $2500 Award from Aviation Influence and Influential Drones
Chase Snyder $1,000 Award from Pittsburgh Institute of Aeronautics
Shaan Patel $1,500 Award from Unmanned Safety Institute
Brody Watson $1,500 Award from Kent State University College of Aeronautics and Engineering
Micah Chin $2,500 Award from Aviation Institute of Maintenance
Bitan Chowdhury $2,500 Award from Aviation Institute of Maintenance
Clayton Shick $8,000 Award from Saint Francis University
Edwin Niemandt $8,000 Award from Saint Francis University
Pranav Vangari $20,000 Award from Vaughn College of Aeronautics and Technology
Claire Holloway $20,000 Award from Marywood University
Carter Michael Long $20,000 Award from Embry Riddle Aeronautical University
Nicholas Baker $20,000 Award from Averett University
In addition to monetary and school-specific scholarships, numerous paid internships were also available and awarded. Campbell Wealth Management was this year's premier corporate sponsor, covering lunch for the students as well as vendors. Richard Zaher, CEO of Paramount Business Jets and Founder of Best You/Best Me, was awarded the honorary Jump Baton, by the US Army Knights, for the pivotal role that his non-profit plays in this event.  
About The Aviation Education & Career Expo
The Aviation Education & Career Expo is one of the largest and most successful aviation education events in the United States, awarding to date, over $1.3 million dollars in scholarships to high school and college students pursuing careers in the aviation and aerospace industry, since its inception in 2005. Cofounded by aviation professionals Julie O'Brien and Sarah Thompson, the Expo is committed to helping students explore the many career opportunities available to them through the world of flight. The Aviation Education & Career Expo is hosted by ProJet Aviation at Leesburg Executive Airport (KJYO), in Leesburg, VA.
ProJet Aviation is the DC metro region's premier aviation hospitality company, dedicated to helping people accomplish extraordinary things through the wonder of flight. The company operates ProJet Center, a Fixed Base Operation (FBO), at Leesburg Executive Airport (KJYO), general aviation's gateway to Washington DC, Dulles, and Virginia's Horse & Wine Country. Established in 2007 as a partnership between former airline pilot, educator, and entrepreneur Shye Gilad, and noted entrepreneur and philanthropist Sheila C. Johnson, Founder & CEO of Salamander Hotels and Resorts, ProJet Aviation combines the operational integrity of the world's best airlines with the refined service of a world-class resort. ProJet's numerous accolades include recognition as a Washington Business Journal Best Place to Work, Loudoun County Chamber of Commerce Service Business of the Year, and an Inc. 500/5000 Fastest Growing Company.
Corporate Sponsors for the event Included: Advanced Helicopter Concepts, Aero Elite, AEA, AIM, ALPA, American Airlines, AOPA, Avemco, Averett University, AVFuel, Aviation Adventures, Aviation Connect, The Aviation Foundation, Aviation Influence, Aviation Without Borders, Avyation Labs, Bravo Flight, Campbell Wealth, College of Missionary Aviation, Embry Riddle, FBO Partners, Frederick Flight Center, General Dynamics, Goose Creek, GWBAA, Harris Teeter, Hoxton Agency, Jet Linx, Kent State University,  Marywood University, NATCA, NATA, NBAA, Paragon Aviation Group, Paragon Aviation Detailing, PIA, ProJet Aviation, Randolph Macon Academy, Saint Francis University, Smokehouse Pilots, Teamsters Airline Division, Toth Financial, Unmanned Safety Institute, USAIG, Vaughn College, Winchester Regional, and Women in Aviation.