Explore
Beyond the Horizon
Join us on November 3rd, 2023 at Leesburg Executive Airport
Helpful hints for application success! For students, teachers & parents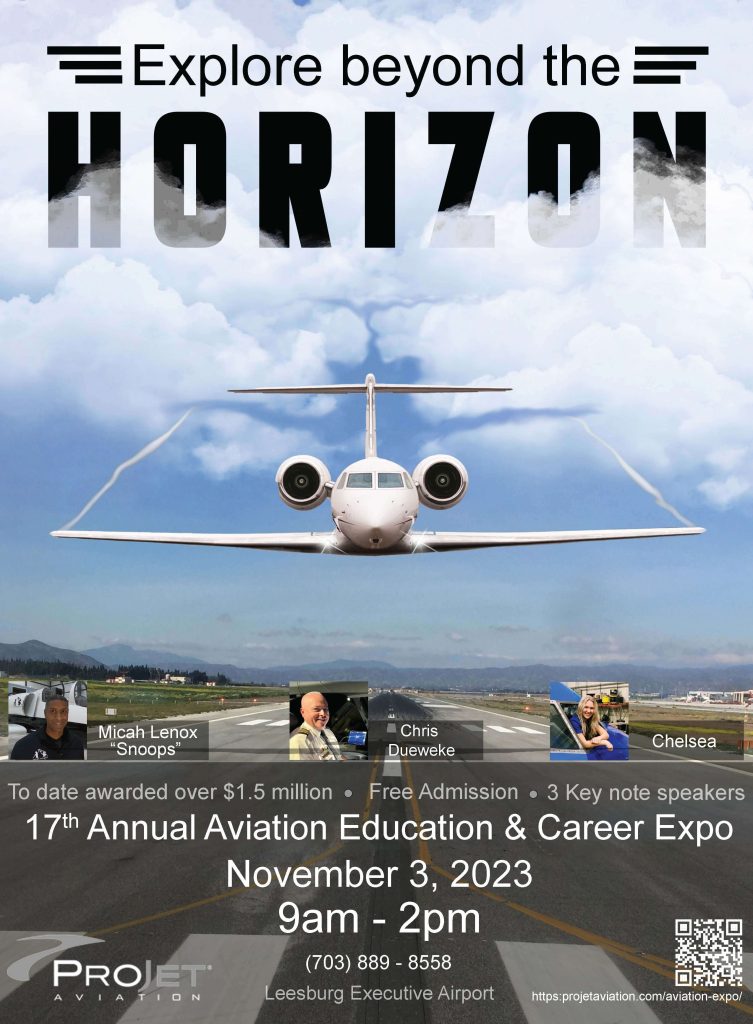 2023 Aviation Education & Career Expo at ProJet Aviation to award over $166K in scholarships
This event is geared towards high school and college students (ages 16-22). Our focus is to introduce young people to the vast array of career opportunities within the aviation industry. We want to educate students on the brink of making college and career decisions about some of these exciting options. The Expo consists of industry leaders, vendors, aircraft displays, guest speakers, amazing prizes, demonstrations, and of course – scholarships! We provide information and resources that will launch a student's career and help them achieve their goals!
"What I can only describe as an astonishing experience. The US Navy fighter pilot was by far, one of the most powerful and motivating speakers I have heard in my lifetime."
"This event is a high quality introduction to the world of aviation education and career opportunities…what impresses me the most is the obvious joy and sincere dedication exhibited by the organizers."
"Each year I attend, I learn so much, and I am grateful for my scholarship which reduced by costs for becoming a commercial pilot. Thank you so much for the energy you expend in supporting young adults pursuing a career in aviation."
"Before attending the Expo I had no plans of entering the aviation industry, but afterwards, I was certain I wanted to join the aviation world. At the Expo I met my dream college, and applied as soon as I got home. I am now in my junior year and plan to join the GA side of aviation a s charter pilot."
"If you have students interested in any aspect of aviation, this is one experience you don't want them to miss. This remarkable 1-day event is the most comprehensive, generous, educational program available to students, like no other. This is a unique and rewarding experience."
"Just a few hours changed my life. The Expo gave me such quality information, a part time job, and a definite idea of where I wanted my career to go beyond college. Thank You!"
"The Expo made me believe more than ever, that I can pursue every single dream I have."
"Every year your event continues to amaze me. It is our pleasure to be associated with such a wonderful opportunity. I look forward to what the future holds."
"Thank you from the bottom of my heart. This has really opened doors for me, and I would not be where I am now, if it wasn't for this scholarship."
"Thank you for getting it! You are giving our students another choice that may position them to fulfill their purpose and maximize their potential. We are grateful beyond measure for this unique experience and opportunity."
"Thank you for such an amazing day. Your Expo provided us with new resources and doubled my excitement of what's possible. Thank you for your efforts and vision."
"Thank you so much for hosting the Expo! We were honored to attend. We were so impressed with the whole program, but especially the quality of students who attend."
"I am planning on starting new hire training at a regional airline this Summer. After attending the Expo, I wanted a career in aviation! I am excited for the new opportunities ahead." Video Gallery